Latrice Pace in The Color Purple (2018). Photo by Casey Gardner Ford Photography.

Are you interested in breaking artistic boundaries in a workplace that is dynamic and inclusive? The Actor's Express team consists of artists, staff, apprentices and volunteers who crave artistic adventure and are committed to upholding principles of inclusion and equity. 
Actor's Express is an Equal Opportunity Employer and does not discriminate on the basis of race, color, religion, national origin, sex, marital status, status with regard to public assistance, age, disability, U.S. veteran status, or sexual orientation.
CURRENT AUDITION OPPORTUNITIES
Actor's Express operates under the Actors' Equity Small Professional Theatre Agreement (Category 4). Actor's Express hires both Equity and non-Equity performers.
HEDWIG AND THE ANGRY INCH AUDITIONS
Actor's Express will hold an Equity Principal Audition (EPA) for Hedwig and the Angry Inch on January 29, 2023. Non-equity performers may audition, but only if there is no Equity performer waiting. Walk-up Equity members must be seen first, even if a non-Equity performer has been waiting. 
For a copy of the Audition Notice, click HERE.
For audition sides, click HERE.
To sign up for an appointment and submit audition form materials, please click HERE.


CULLUD WATTAH AUDITIONS
Auditions for Cullud Wattah will be announced soon.
At this time, Actor's Express does not have adequate staff resources to accept unsolicited manuscripts directly from playwrights not based in Atlanta. 
Unsolicited scripts may be submitted by agents and professional representatives. Additionally, some unsolicited work may be considered on the strength of a professional recommendation and/or existing professional relationship.
Actor's Express is a member and active user of the New Play Exchange and encourages writers to join this valuable and extensive, searchable, sortable database.
Professional representatives may submit work on behalf of their clients to:
Freddie Ashley
Actor's Express
887 West Marietta Street NW, Suite J-107
Atlanta, GA 30318
Agents and Atlanta-based playwrights, please submit any email queries directly to Artistic Director Freddie Ashley.
APPLICATIONS NOW OPEN FOR 2023-2024 APPRENTICE COMPANY
The Apprentice Company at Actor's Express is one of the most rigorous and successful programs of its kind in the Atlanta area. In residence for a full year, apprentices can expect an average time commitment of 20-30 hours per week in the theater. In addition to practicum work, apprentices take up to ten classes taught by working professionals. All apprentices recieve a $400 per production stipend. 
The program has three primary goals:
1. To expand the skills of the artist through rehearsal, understudy rehearsal,
performance, understudy performance, class work and participation in
the workings of a professional theatre company.
2. To successfully bridge the transition from student training to professional
theatre career.
3. To inspire the individual with the theatre's potential for impact.
How to apply:
Materials are due by Monday April 17th, 2023. Upload your materials at this link.
Actors:
Please prepare two contrasting contemporary monologues (or one monologue and one song acapella). Send headshot, resume and a link to
your audition pieces. The link should be to a web-based platform (YouTube, Vimeo, WeTransfer, etc.) and be sure to double check your preferred privacy settings. Videos requiring a download will not be considered.
Directors and Stage Managers:
Please send resume and cover letter, along with any appropriate supporting materials (portfolio, SM book, etc.)
Production Applicants:
Please send resume and cover letter, along with any appropriate supporting materials (portfolio, drawings, plots, etc.).
Once the deadline has passed applicants materials will be reviewed. Associate Artistic Director, Amanda Washington, will reach out to schedule an interview if you have been selected for the next round of the process. If you have any questions, please reach out to Amanda Washington at
[email protected]Amanda Washington.

Actor's Express is a fully vaccinated workplace all employees must be fully vaccinated against COVID-19
Actors Express is committed to Anti-Racism and Anti-Bias in the work place and does not discriminate on the basis of race, sexual orientation, gender identity, religions or any other deeply held belief, all are welcome and encouraged to apply for positions at the theatre. View our anti-racist / anti-bias plan here.
Development Coordinator - PT
Graphics and Marketing Coordinator - PT
Overhire Build / Load-in Crew- PT
Front of House Positions - PT
Admin Internships - Stipend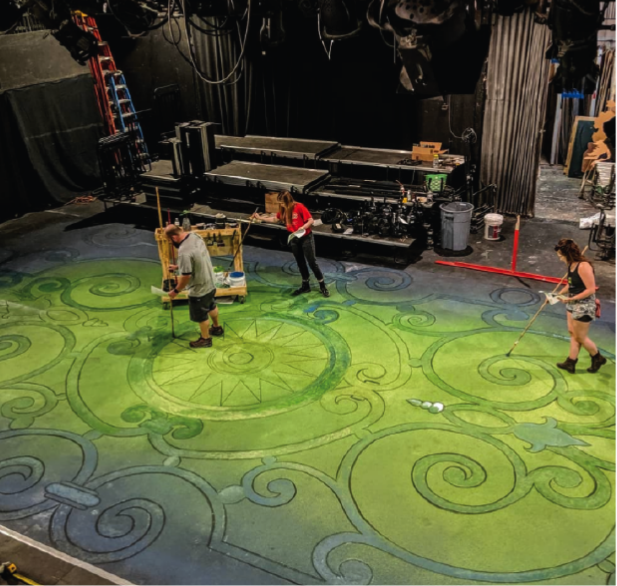 As an usher, you assist our house management team in stuffing and passing out programs as well as providing general services to our patrons. The best part? You get to see our shows for free!
Have a special interest in helping AE plan events, audience engagement activities and innovative fundraising ideas? Join our volunteer committee, which meets every other month.
Distribute posters and flyers around your neighborhood to promote upcoming shows.
Board of Directors: If you love the Express and want
to get involved on the most intimate level, consider joining the board.
Help with mailings, telethons and data entry.
JOIN OUR VOLUNTEER MAILING LIST