Latrice Pace in The Color Purple (2018). Photo by Casey Gardner Ford Photography.

Are you interested in breaking artistic boundaries in a workplace that is dynamic and inclusive? The Actor's Express team consists of artists, staff, apprentices and volunteers who crave artistic adventure and are committed to upholding principles of inclusion and equity. 
Actor's Express is an Equal Opportunity Employer and does not discriminate on the basis of race, color, religion, national origin, sex, marital status, status with regard to public assistance, age, disability, U.S. veteran status, or sexual orientation.
CURRENT AUDITION OPPORTUNITIES
Actor's Express operates under the Actors' Equity Small Professional Theatre Agreement (Category 4). Actor's Express hires both Equity and non-Equity performers.
General Auditions for Season 36 have concluded. Please check this page periodically for future audition opportunities.
At this time, Actor's Express does not have adequate staff resources to accept unsolicited manuscripts directly from playwrights not based in Atlanta. 
Unsolicited scripts may be submitted by agents and professional representatives. Additionally, some unsolicited work may be considered on the strength of a professional recommendation and/or existing professional relationship.
Actor's Express is a member and active user of the New Play Exchange and encourages writers to join this valuable and extensive, searchable, sortable database.
Professional representatives may submit work on behalf of their clients to:
Freddie Ashley
Actor's Express
887 West Marietta Street NW, Suite J-107
Atlanta, GA 30318
Agents and Atlanta-based playwrights, please submit any email queries directly to Artistic Director Freddie Ashley.
APPLICATIONS FOR 2024-2025 APPRENTICE COMPANY OPEN MID-MARCH 2024
The Apprentice Company at Actor's Express is one of the most rigorous and successful programs of its kind in the Atlanta area. In residence for a full year, apprentices can expect an average time commitment of 20-30 hours per week in the theater. In addition to practicum work, apprentices take up to ten classes taught by working professionals. All apprentices recieve a $400 per production stipend.
The program has three primary goals:
1. To expand the skills of the artist through rehearsal, understudy rehearsal,
performance, understudy performance, class work and participation in
the workings of a professional theatre company.
2. To successfully bridge the transition from student training to professional
theatre career.
3. To inspire the individual with the theatre's potential for impact.
If you have any questions please email Associate Artistic Director, Amanda Washington, [email protected]

Actor's Express is a fully vaccinated workplace all employees must be fully vaccinated against COVID-19
Actors Express is committed to Anti-Racism and Anti-Bias in the work place and does not discriminate on the basis of race, sexual orientation, gender identity, religions or any other deeply held belief, all are welcome and encouraged to apply for positions at the theatre. View our anti-racist / anti-bias plan here.
Front of House Positions - PT
Admin Internships - Stipend
Please e-mail a brief cover letter and resume to Ebony at [email protected]. No phone calls, please.
Evening Box Office Assistant
Pay Rate: $12.50 per hour
Supervisor: Patron Services Manager
Box Office Assistants are responsible for selling and distributing tickets with courteous and effective customer service at Actor's Express performances. The Box Office staff also manages the bar/concessions area including personnel, inventory, and monies.
• Answer phones and maintain patron services.
• Check voicemail and email for ticket reservations and confirm.
• Manage nightly inventory of tickets and sell tickets at the door.
• Process and print nightly Box Office report.
• Manage Bar/Concessions area.
• Keep the lobby and box office area clean.
• Work with volunteer ushers and interns.
• Outstanding customer relations, communications, and problem-solving in a fast-paced environment.
• Coordinate with Production on specific requirements for each performance, i.e. late seating, seating restrictions, etc.
• Deal effectively with special seating requirements.
• Work effectively under pressure to ensure all patrons are seated in a courteous and friendly manner before showtime.
• Work independently, exercising judgment and initiative.
• Remain flexible and adjust to situations as they occur.
6 – 12 hours a week average during the evening. Working hours would typically fall between 6 pm – 11 pm. Possibly more administrative hours available depending on skills. Productions run approximately four to five weeks with three to five weeks in between.
Administrative Apprenticeship
Actor's Express offers administrative apprenticeship throughout the season. Standard administrative apprenticeships run approximately ten weeks with apprentices working in the office two or three times a week for four to six hours a day. Administrative Apprentices receive a $400 stipend and can expect to work on Fundraisings, Marketing, and Operations projects as well as special projects aligning with the Apprentice's interests. Apprentices may also work for school credit if enrolled in an arts program.
If interested in applying please email Alex Scollon at [email protected] a brief cover letter stating why you are interested in exploring arts management and your resume.
To Apply, email resume and cover letter to [email protected]
Required Experience : Preferred minimum 2 years' experience in scenic painting.
Rate of Pay: $18/hour
The Charge Scenic Artist is responsible for supporting the artistic vision of directors and designers as it relates to all painting and scenic treatments for our season. The ability to create scenic painting techniques and surface treatments, including but not limited to translucencies, carving, texturing, ageing, distressing, marbling and wood graining is essential. Also of importance is proven ability in personnel management and budgeting; excellent work ethic including attention to detail, time management, workflow management, self-motivation, and interpersonal communication skills; ability to collaborate and work as part of a team; flexible schedule, including weekends and evenings as necessary.
Duties and Responsibilities
Ability to translate designer's renderings, notes and color elevations into meaningful samples and full scale
Collaborate with technical director to project budgetary needs for scenic painting area
Touch-up and maintenance of scenery during the load-in process and during the run of the show, as required.
Maintain paint budgets, purchasing, and equipment
Assist in organization, and maintenance of  paint shop equipment and promote shop safety
Attend meetings as needed
Additional duties as assigned.
Required Skills
Experience with a variety of styles and techniques of painting
Color mixing, layout, and faux treatment skills
Ability to interpret designers' paint elevations and develop them into full-scale scenic treatments
Ability to organize and maintain inventory of painting supplies and tools
Be comfortable working at heights on ladders and personnel lifts
Excellent time management skills
Excellent organizational and leadership skills
Proven ability to work independently and collaboratively in a fast paced, rapidly changing environment. Candidates should exhibit a positive attitude with good communication and interpersonal skills.
A proactive approach to problem-solving with strong decision-making skills.
Ability to work with an active production schedule
Physical Requirements/Working Conditions:
Prolonged periods of standing.
Ability to repeatedly bend, kneel, stoop, crawl, squat, and crouch.
Ability to lift and move 30-50 lbs.
Regular ladder or MEWP work up to 16 feet.
Must be comfortable working in a fast-paced environment where directions and priorities can change rapidly.
Typical hours are during the day, but the position requires the flexibility to be available for weekend, holidays and evening work hours as needed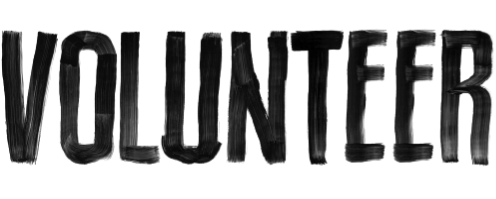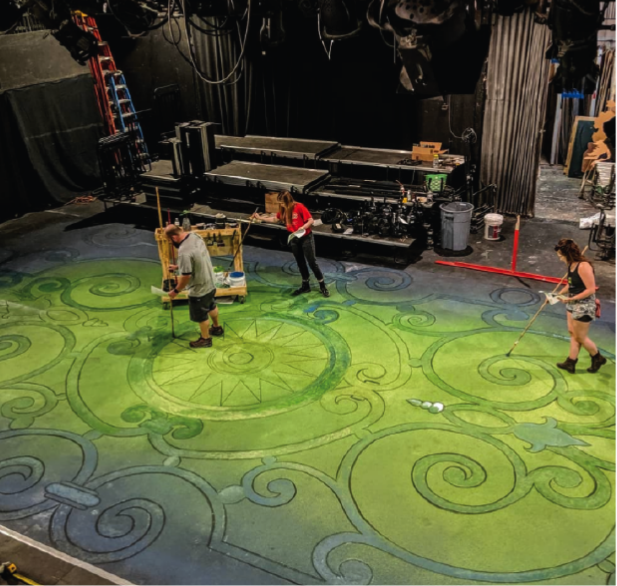 As an usher, you assist our house management team in stuffing and passing out programs as well as providing general services to our patrons. The best part? You get to see our shows for free!
Have a special interest in helping AE plan events, audience engagement activities and innovative fundraising ideas? Join our volunteer committee, which meets every other month.
Distribute posters and flyers around your neighborhood to promote upcoming shows.
Board of Directors: If you love the Express and want
to get involved on the most intimate level, consider joining the board.
Help with mailings, telethons and data entry.
JOIN OUR VOLUNTEER MAILING LIST